A guide to starting your own business networking event
How I Created One of the World's Biggest Networking Events
I wanted to get all of the local people using LinkedIn in one room…

I think I succeeded.
In 2018, I started a networking event called LinkedIn Local Hamilton.
I would have been happy to get 50 people in a room. One hundred attended, and then over 300 people attended my third event. The attendees transcended LinkedIn.
I have now been doing it for three years.
Despite Covid and lucky to call New Zealand home, I did five in-person events in 2020.
Over those events, I have had around 35 respected local business-people as speakers. We've raised over $15,000 for charity. Over 2,000 people in total have attended in a city of around 160,000 people.
I wrote this article to give my strategy away to other people who want to start a business networking event.
It's an excellent way for an entrepreneur, business owner, or consultant to grow their personal brand with a relevant target market — the local business community.
I outline my whole process from the planning to promotion and event coordination.
What Is LinkedIn Local?
I didn't invent this Linkedin Local thing — I just made it bigger.
LinkedIn Local is an in-person business networking event set up to leverage the growing popularity of LinkedIn.

"LinkedIn Local events are organic meetups, hosted by members all over the world. They provide an opportunity to network, build community, discuss industry trends, and share best practices for using LinkedIn."
Anna McAfee started the concept in a small town in Australia of Coffs Harbour, who asked on Linkedin if any local connections wanted to meet in person.
She hashtagged it #LinkedInLocal, and 18 people turned up for coffee. But people reacted worldwide, and the concept quickly spread to over 1,000 cities.
Anna wrote a book about her experience, and I am one of the featured hosts.
The movement lost some momentum after LinkedIn created guidelines for hosts running the events, such as no co-branded events.
Obviously, with the COVID-19 pandemic sweeping the planet currently, there are not as many face-to-face events going on. But I imagine people can't wait to get back to some networking once we return to normality.
My events
In late 2017, I decided I wanted to start a networking event.
I live in a city of 160,000 odd in New Zealand, and our area is probably most well known for farming. But we do have a large number of students due to our university.
We have a young population, with a median age of 32 years old. So we fit right into the demographic of Linkedin's target segment, as sixty percent of Linkedin users are 25–34 years old.
I wanted to create an event that I would attend — I am admittedly not the world's biggest networker.
A mate Ryan Ashton had recently had New Zealand's first LinkedIn Local event in Auckland. I had met him through LinkedIn and a networking event he created called A Few Quite Yarns.
Because I wanted to meet LinkedIn connections, LinkedIn Local seemed perfect.
In my limited networking experience, some events had a small amount of beer and nibbles provided, and it helped. After a long day's work, you're hungry and tired. A beer or two helps you loosen up.
So, I decided to go pretty overboard with catering for my events. There are various finger foods and 2–4 beverages for each person, including multiple wines, beer, and non-alcoholic refreshments.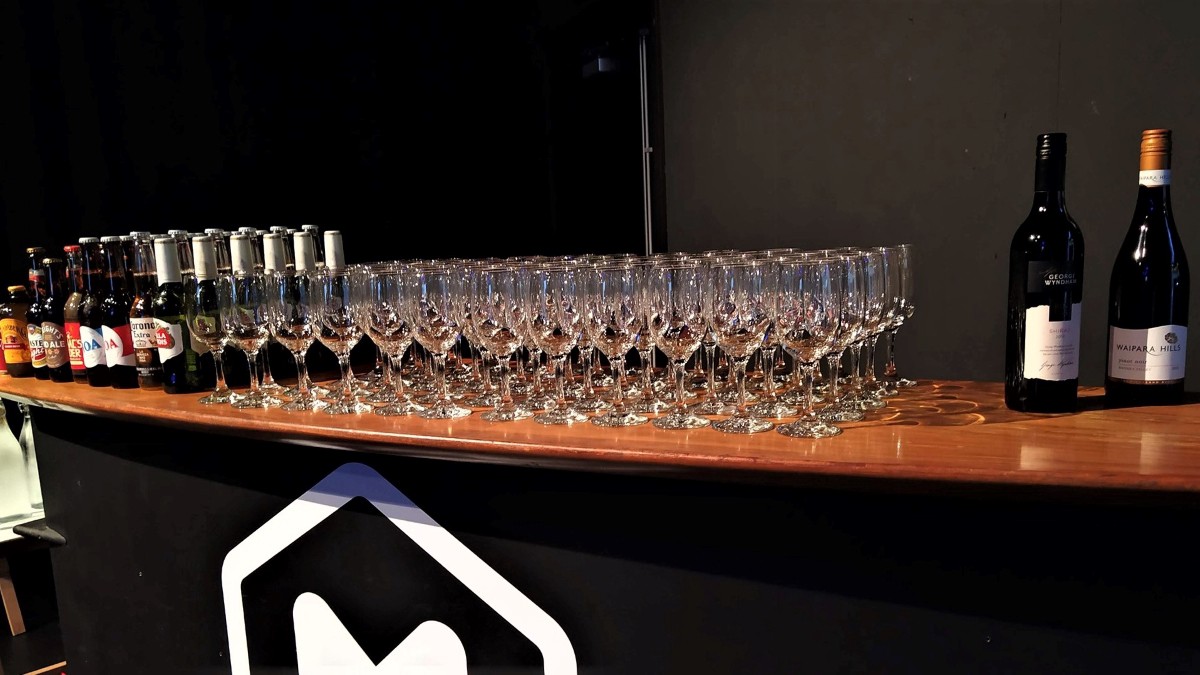 The atmosphere is more like a cocktail party. There is a real buzz, and it always feels really cool after I have spent the last hour stressing out, setting up the event.
It's pretty different from a BNI group and other networking events you might have attended. I have had whisky-tasting at the events — and even an ice cream cart. It is an experience.
I wrote my master's thesis on the consumption of rock concerts. I wanted to explore what is about the rock concert experience that so engaging and addictive?
I learnt about the importance of the experience being unique and engaging.
I have just had my fourteenth event, averaging around 150–180 people an event. Since New Zealand has been very effective in controlling COVID-19, I feel very privileged to have been able to do five events in 2020.
Why Did I Do It?
I wanted to meet more people to grow my network and generate leads.
At the time, I was a real estate agent. The more people I met, the more chances of having conversations with people who might be thinking of selling or know somebody who is.
I started sending messages to people on Linkedin I had got to know online but had never met. It was great. We had some terrific conversations. But, if there's one thing that you do have plentiful access to as a busy real estate agent, it is time. I felt that there must be a more efficient way of doing this.
Trying to get everyone I wanted to meet into a room seemed more efficient than a one on one coffee.
One night I posted on LinkedIn asking if there is interest in attending a LinkedIn networking event. I got a pretty overwhelming response with over a hundred comments and likes, so I decided to do it.
I had recently seen the LinkedIn Local concept pop up in other cities and liked the idea. I decided this is how I would brand my events.
And I have built a brand. LinkedIn Local Hamilton.
Why Should You Do It?
Suppose you're entrepreneurial, in sales, looking for clients, or any other reason you want to grow your personal brand online and in the local community. In that case, the events will achieve that.
Through these events, I have met other people who volunteer to do great things in the community. It is a great format to strengthen online relationships by meeting connections in person.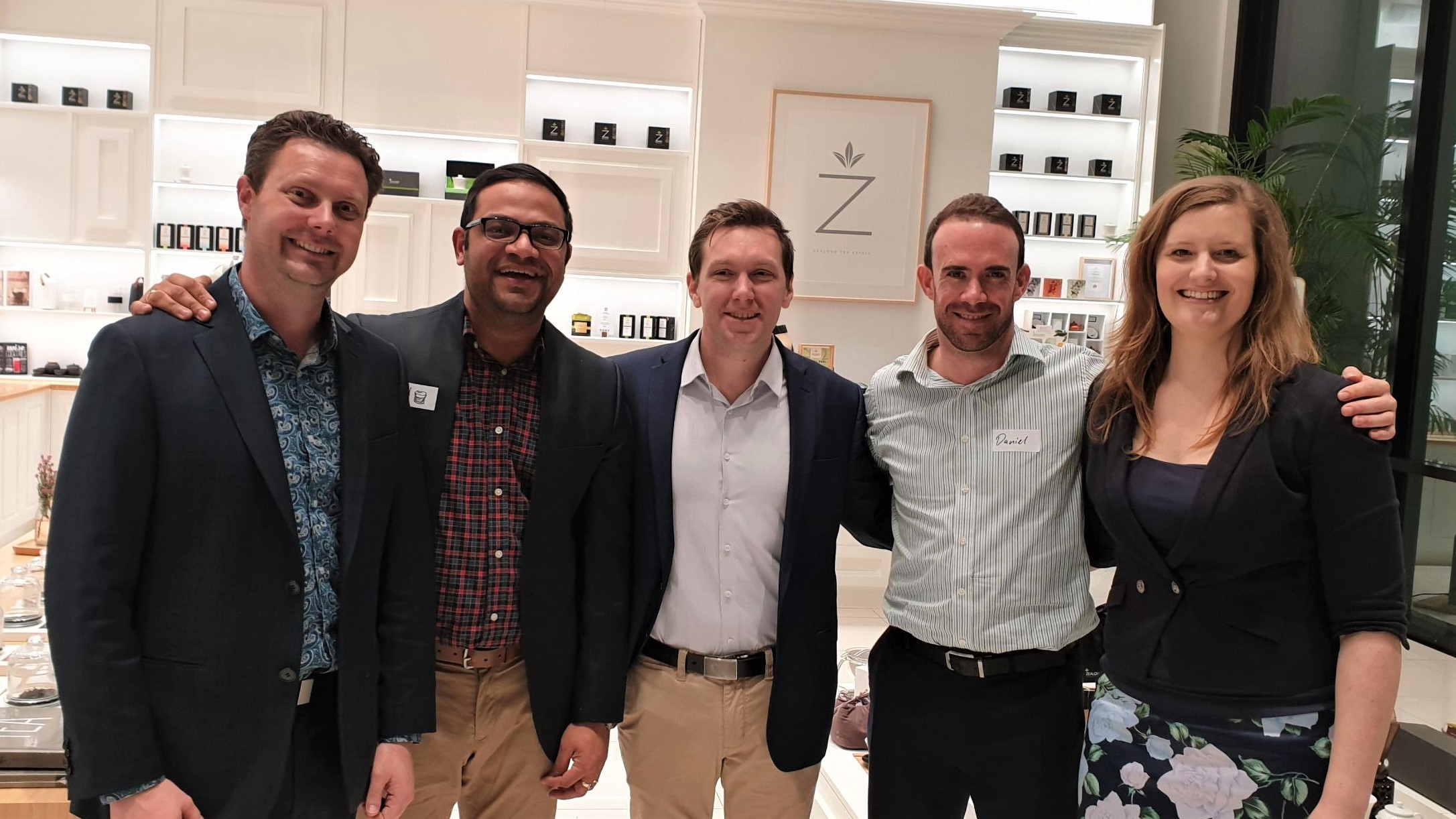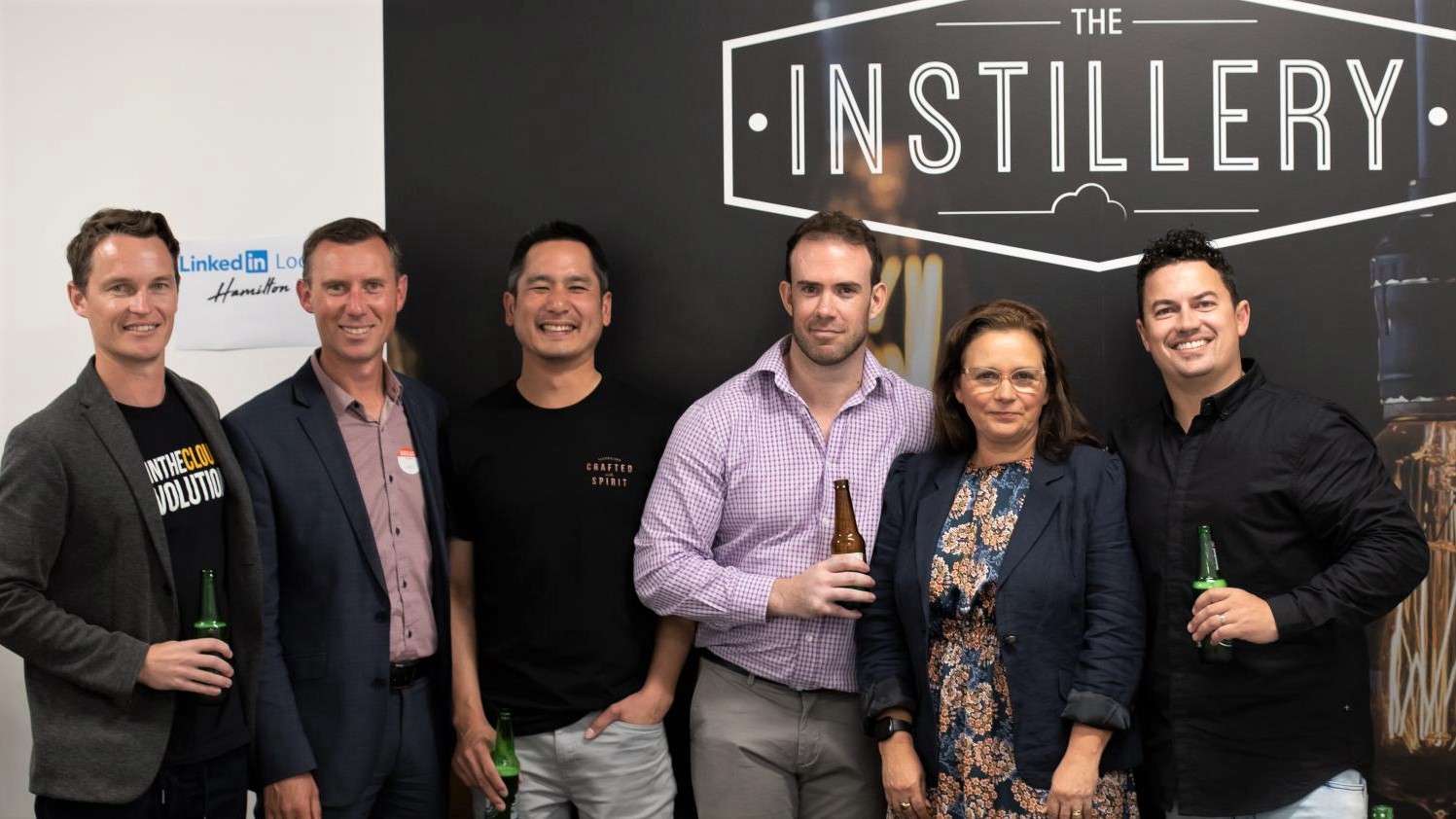 However, do not start an event on the basis to monetise it and make money out of the event itself. You might be able to make a small amount of money through ticket sales, but it isn't going to be a profitable business.
Instead, the focus should be on using the event as a tool to grow your personal brand. The events will increase your credibility and help you to gain trust in your local business community, as well as on Linkedin.
I now know many politicians quite well by meeting them at the events, including the mayor, several councillors, and parliament members.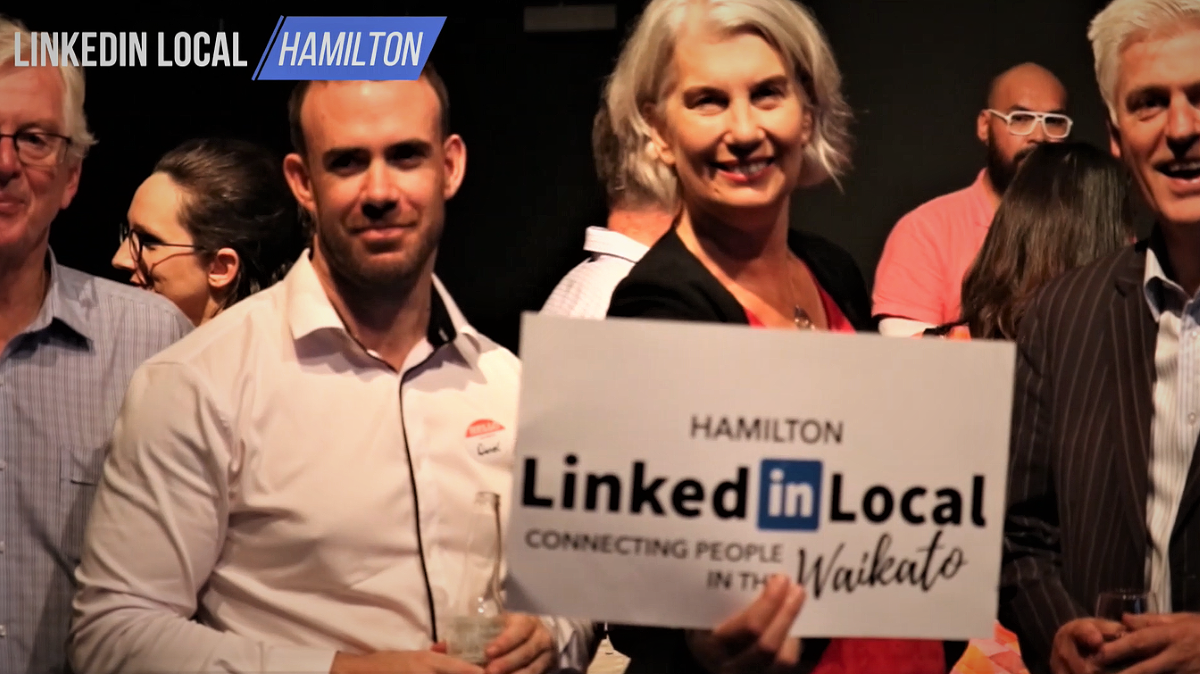 Your association with creating events that people love is excellent PR. You will generate leads in the long run based on credibility and trust.
How Did I Do It?
I will now cover my strategy for the events.
I will talk about my experiences and give best practice recommendations based on what has worked for me.
You can amend these recommendations to suit your interests/needs. Many of the aspects and systems from this guide are transferable for setting up any community event with an audience you can reach online.
People recognised me at cafes and asked if I am the "LinkedIn Guy" … Not my intention originally, but it was a good platform to launch the events.
Building a following
The first step is reaching your target audience.
I hate being called an influencer. I consider myself a content creator, but it's probably the right word here. You need to be able to influence people to be interested in your event. Persuade them. Educate your audience about the benefits of attending.
It's so important to have a large enough following and reach with your content so that many people will see your event content. With these in place, promoting your event will be easier.
I've had many people approach me, saying they are keen to start their own event. Nine times out of ten, when I checked out their profile, they barely post any content and don't have a large following.
I tell them that first, you need to build your brand. It's not what they want to hear, but it is the reality of it.
Before I started my events, my content was often getting over 5–10k views. I had already built a local audience. As a real estate agent, part of my strategy was sharing content about my city, which is informative to the general population.
If you are not already creating and sharing content on LinkedIn, and do not have an extensive network, start now.
Connect on LinkedIn with as many people in your local area as you can. These individuals are the target market for your events.
You will probably be surprised at how many people are happy to connect with a person they don't know.
The larger your reach online, the more people will see your content. Therefore, it becomes more straightforward to promote events.
Many people who have approached me just do not have the network or marketing skills to promote the events. I think this is the biggest key to success.
If you have a presence on any other social media such as Facebook, promote the event there. You want to reach as many local people as possible without being repetitive.
I will get further into promotion shortly.
Growing a database
I started building a database of people interested in the events before I launched the first event.
When I decided to create a networking event, I made a page for the event on my website. I set up a contact form to take their name and email. My customer relationship management system (CRM) allows me to create mailing lists to email the event tickets page on launch.
I leave a link to sign up in the reused content from old events (such as photos or videos) with something like "Interested in attending an event? Sign up to the event mailing list here." A pretty basic call to action.
From my original post on Linkedin, the mailing list quite quickly grew to over 100 people.
I now have over 1,000 people on the mailing list.
Eventbrite also allows you to export your list of people who have attended so that you can add them to your site's mailing list.
The larger the list grows, the more potential you have for ticket sales.
Managing the events
Many events fail when there is no one behind the scenes working hard to drive the events and manage everything.
Managing these events as a volunteer means you need to invest a lot of your own time, effort, and resources into managing the events.
It will take some time out of your day; it could be five or ten hours per week.
It might be more, especially if you are creating video content, writing copy, organising speakers, and the other aspects of the event. At ten hours a week, that is 500 hours over a year!
You do not want to give up too much of your free time, so efficient management is essential.

Choosing an event model
Linkedin Local hosts can decide on the format for their events. Some are small coffee group-type gatherings or at a bar.
A practical business model is required to fund the events.
Sponsorship funds my events, keeping them free to maximise attendance.
I chose this model as I didn't want 20 people to turn up to my events. People like to network, but they are not necessarily prepared to pay for it.
A bigger event means more significant potential exposure for my brand, right? I figured the events need to bring the masses to maximise my exposure.
The sponsorship covers the hospitality costs.
I've noticed that many Linkedin Local events that failed to take off charged a fee for entry and/or people had to buy their food and drinks.
People LOVE FREE THINGS, and free hospitality creates a very positive vibe.
I now include a donation option for tickets, which covers miscellaneous costs or goes to charity.
I have had a few events where I have also done a fundraiser, such as a charity auction. We've raised over $15,000.
Organising the events takes a lot of time and mental energy. I like to have a break for a month or so without thinking about the events, and quarterly events allow me to do this.
Each city can have more than one host for events. If you live in a big city, I would recommend considering focusing on one specific suburb or area. If the chance of being stuck in traffic for more than 30 minutes to attend your events is high, it will not be as attractive.

Ticketing
I use Eventbrite as the ticketing agent for the events.
You can hold an event for free, but Eventbrite takes a small portion, which is fair if you profit from tickets. I have found their system pretty user-friendly and gives me all the functionality and features I may need.
Here are a few strategy tips:
Do not release all the tickets at once— do two or three ticket releases in the leadup. Create a waitlist after the initial set of tickets sell out and release more tickets closer to the event.
When people see that something is "sold out" or there are limited tickets, they do not want to miss the fun. If there are a lot of tickets available, it does not seem as urgent. People might decide to grab a ticket later and then completely forget. We want to create urgency.
Allow for people who do not turn up — You probably will not find this tip in any events management training guides, but I overbook tickets. If we can cater for 150 people at an event, I'll do around 180 tickets. I'll add an extra 15–20% to capacity numbers.
What if everyone turns up? Well, it hasn't happened yet. With free tickets, there will always be people who have had something more important has come up. Or they forget.
After a few events, you will work out what your attendance rate is.
Utilise Email Marketing — Eventbrite gives you the capability to send emails to the database of people who have been to events. Use this feature. Each event I launch, everybody who has attended one of the previous events receives an email.
Automate a Facebook event — Once you launch an event, Eventbrite asks if you want to automate a Facebook event listing, which is a great free promotional tool. You can invite your friends along, share content to create a buzz, and drive traffic to the Eventbrite ticketing page.
Edit the Facebook event listing after it is automated, as there can be formatting errors and other things to tidy up.

Planning each event
Coordinating the event itself is the easy part, and it needs to come together first.
To be an ongoing success, you need to have a strategy. Time efficiency is also essential as you don't want to go overboard but dedicate enough time to look after the planning, promotion, and communications.
Having the event quarterly allows enough time to manage all aspects of planning and promotion — without taking too much time out of my workday.
Reduce costs across the board as much as possible, so you can pack as many people in a room as you can. A large proportion of the cost is catering.
Try and stay away from bars, and use large open spaces — specific event venues. For catering, some venues have a contracted service provider, which can be expensive. If not, use an external caterer who can drop it off and buy the alcohol yourself to bring in.
Theme and speakers — create value for your attendees.
I try to keep the events fresh and exciting with a new theme and new speakers for each event.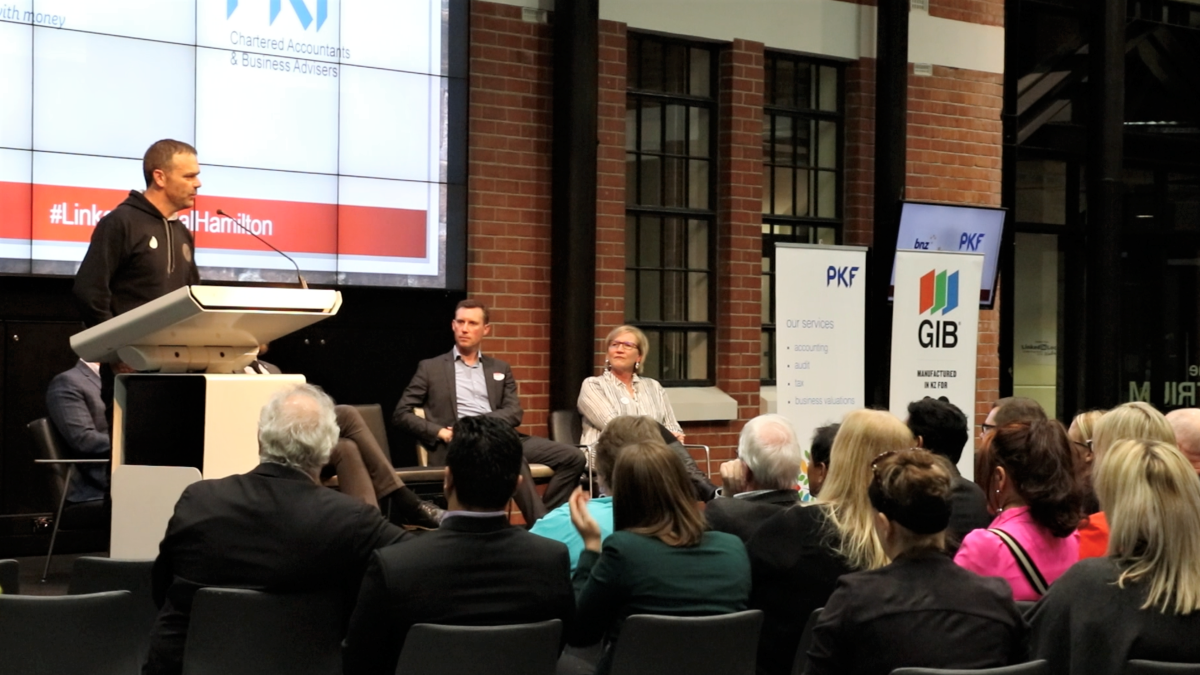 Event themes are relevant to the business community but diverse enough to enhance awareness to broader people's demographics than those who would necessarily be LinkedIn users.
Speakers who are successful and recognised business people in your location are relevant to your theme. People with something interesting and informative to say are also excellent. Their credibility will draw a crowd.
Do not fall into the trap of using yourself or your friends/associates as speakers. That probably will not be very interesting and will not draw a crowd.
Aim to have diversity on your panel, with 50/50 males and females. Inspire your audience and leave them with warm fuzzies.
Do some research on who is doing cool things in the local business community.
Ask on LinkedIn for suggestions of who would be a good speaker for your topic, or do a Google search for articles from newspapers on successful local businesses.
In my experience, speakers usually say yes, unless they have a prior engagement. Businesspeople are typically happy to share their story with people. It's recognition for their hard work.

Try to use new venues, new speakers, and new sponsors for each event to be as neutral as possible.
Finding Sponsors
Create value for sponsors by creating value for attendees.
Sponsors like to be involved with things that have been adding value to the community.
By creating content around your event, you illustrate how sponsoring an event supplies value to local businesses. Eventually, sponsors start coming to you.
I would get a handful of minor sponsors at $200-$300 each in my early events. It was easier than asking $2,000 for one full sponsor.
I soon learnt that asking for the full $2,000 for a sole sponsor wasn't so bad.
The events were obviously creating value for people, as I started to have sponsors approach me. Some sponsors have provided a venue and looked after costs outright. It makes life easier.
Consistently sourcing funding for your events may be the most challenging part of the gig. Do not be afraid to reach out to your LinkedIn network in your posts and ask for a sponsor.
Do not be afraid to ask for help!
I post content on LinkedIn asking for sponsors or venues — explaining the value of sponsoring and getting their brand in front of local businesspeople. Promote the benefits. With video, it is easier to illustrate this value.
The tangible values the events give my sponsors are:
Promotion through Linkedin content as a sponsor — 10k+ views.
Put their brand in front of 150+ business people at the event.
The local business newspaper often covers the event.

The intangible benefits are harder to measure, such as the brand's goodwill generated by sponsoring the event.
Doing something for the community creates a positive brand association — one of the typical motivations of sponsorship. And, as I mentioned earlier, it is a tremendous public relations activity.
"The sponsor's investment benefits the activity generates a goodwill effect among activity fans, which in turn influences their attitude and behaviour toward the sponsor's brand." (Meenaghan, 2001)

People are interested in hearing local success stories. Having a panel of credible and interesting speakers for a niche group of people creates value for sponsors by creating value for attendees.
Support will come organically when people can see you are legitimately creating value. Approach venues and promote the fact the local business community is attending. If people like the facility, they might want to hold future work functions there.
Promoting the Events
Use LinkedIn and other tools to promote and build your event's brand consistently.
If nobody knows anything about your event, nobody will turn up. You need to be able to promote and market your event to business people in your local area.
If you have friends in the local business community, invite them to the Facebook event page.
I launch my tickets around two to four weeks out from the event. Not too far out, as people forget. So, keep the buzz high between launch and event day.
I consistently post content about the event. Not every day, people will tune out — but try posting about the event two or three times a week in the lead-up and once a week or fortnight if you do not have an event planned.
My content aims to sign people to the event mailing list when I'm not promoting an event. I usually post some old event photos or videos as a "throwback."
People love photos and videos of happy, smiling people having fun, whether themselves or others. I have a videographer at events to capture footage to create content that showcases the human experience.
I think professional branding and graphic design are also essential. Events need to capture peoples' attention and seem credible. If you can't create promotional material for the events, you need to learn or get somebody who can.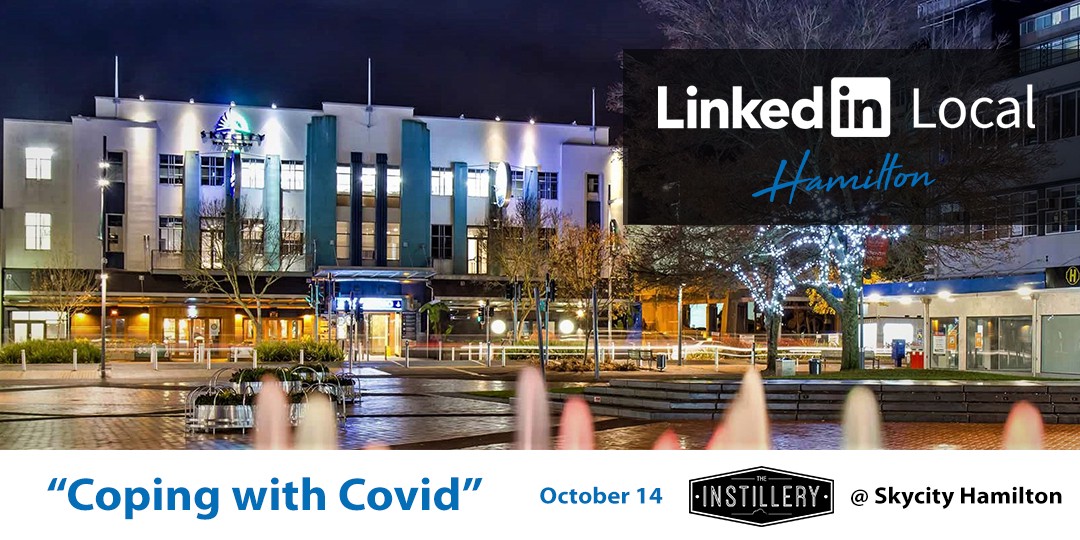 Set up a marketing calendar for each event to give yourself a plan for your content.
If you have been passionate about your city — it builds your credibility, and locals will engage with you.
Create a community.
The Event Itself
Create a memorable experience.
After all the hard work planning and promoting the event, the two-to-three hours the event runs for is showtime. If you are disorganised with your planning and systems, it will show at the event.
Setting up — I allow one to two hours for set up. I don't mind running around in a mad rush, but if you are the kind of person who is quite organised and likes to take their time, you will probably need a bit longer. Set up was the most stressful time for me as a host.
Things can go wrong. I have had the people organising the food, not supply plates or napkins, and I have had someone running the bar forget to bring wine glasses. I've sent volunteers to rush off to the supermarket to pick up plastic cups.
Not ideal!
The MC — The person who controls an event with the mic can significantly impact the vibe and atmosphere. I always try to interject a little humour.
It does not matter if the jokes are terrible; having a laugh yourself will affect emotional/social contagion. Business networking can be nerve-racking for many — so laughing helps people feel at ease.
"Emotional contagion is defined by Sullins (1991) as "…the process by which individuals seem to catch the 'mood' of those around them."
Managing the events as a volunteer is a lot of work, so being the MC is some payback for your efforts. Getting in front of a large group of people and establishing your personal brand in the local business community.
However, I would only recommend this if you are confident. If not, get somebody to do it for you. If you are feeling nervous and awkward, this will rub off on the audience.

On the screens — I use a PowerPoint slideshow that I easily amend for each event. Events often have monitors or a projector screen set up.
The slides feature the sponsors and speakers, flicking through automatically every 20–30 seconds.
Music — I have background music playing during the networking to add some extra ambience. My mix is easy-listening, New Zealand music. Again, the local thing.
The hospitality — might sound obvious but have napkins available near the food, and clear away bottles, cups, and rubbish as much as possible. You want to keep the vibe professional; messy is unprofessional.
Have plenty of good quality finger foods and a variety of beverages.
Doors — Be prepared for people turning up early. My events start at 5:30, but often people turn up at 5 p.m. Keep people in the foyer, if possible, for those who arrive early.
Try and have a familiar 'Linkedin face' or two on the door to welcome people and get them to print their names on a name tag on arrival.
Volunteers — You will need people who will genuinely help you run the events. Roles include welcoming the attendees, ticking off names, giving them a name tag, running the bar, setting up the event, and cleaning up afterwards.
Four to five volunteers should be enough, and often the venue will support you. I have a team of people eager to help out, which is excellent. Naturally, some of the volunteers will just want to turn up early and stand around drinking beer. It might take a few trials of people until you get a team you can trust.
Don't Make It About You
There is nothing worse than turning up to networking with another agenda.
People won't come back. Make it about adding value to the attendees.
It might sound crazy, but people don't like other people in their face, trying to sell them something. No, not crazy at all, right?
This situation still applies to business networking events. If people turn up to a sales presentation poorly disguised as a networking event, they probably won't come back.
Do not be a speaker yourself at the events or use your branding everywhere. I think it is OK to MC the event, but if you're a speaker talking about your expertise, it will seem self-promotional. Attendees will pick up on it — this is called persuasion knowledge.
After fourteen events, I have not yet been a guest speaker. However, I do MC every event, and I have even been the auctioneer for a charity auction.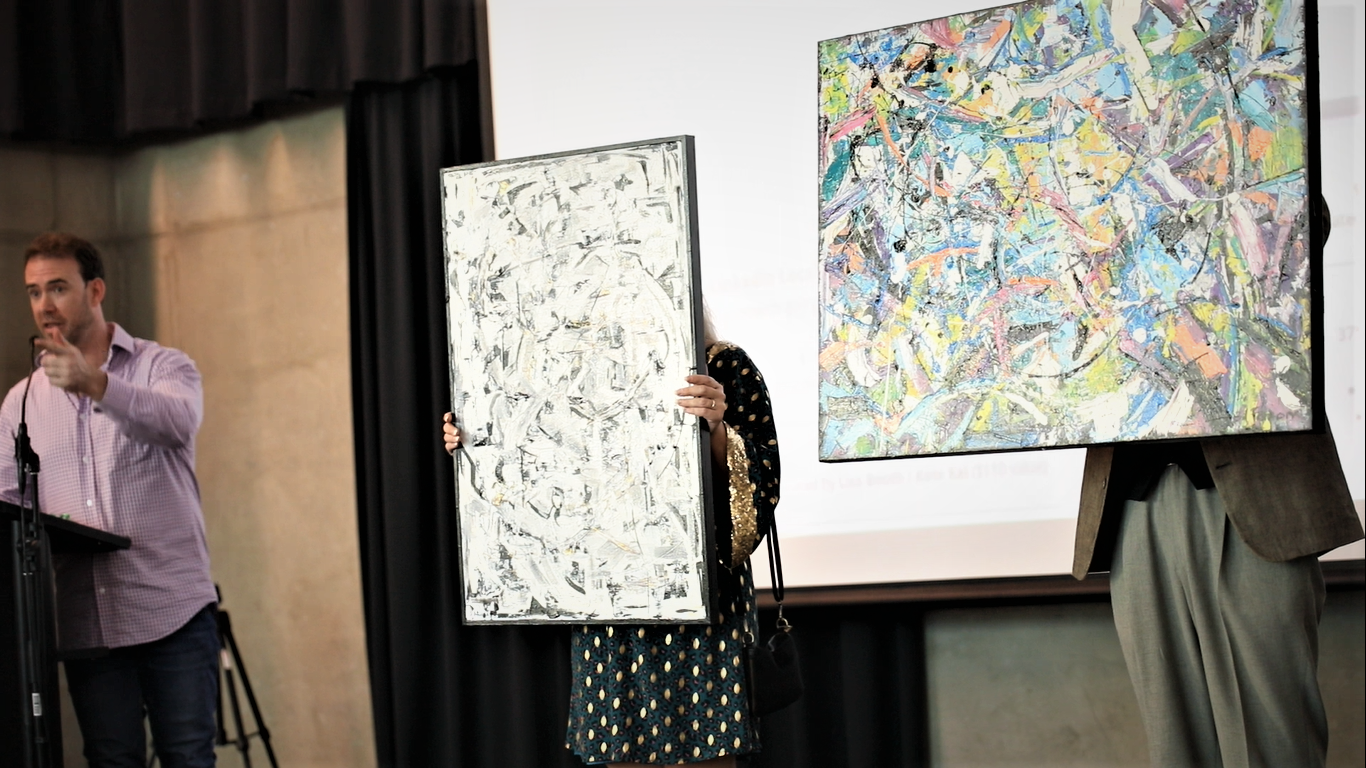 People will pick up on the fact it is self-promotional.
Do not spend five or ten minutes talking about what you do at the events. Just a quick introduction to who you are.
Do not spam your event database with business promotion, and do not try and send them to your website to sell them your latest deal.
Final Words
There you have it. That is how I created one of the most popular networking events in the world. If you are willing to put in the hard work, this should provide somewhat of a blueprint.
Be aware that the events take a lot out of you. It can be stressful. Often, the day after an event, I feel mentally and physically exhausted.
If you're prepared to put the work into the events, you should be well and truly rewarded with lead generation for your business and great personal networks.
I have met people through LinkedIn Local who have become close personal friends. It feels like a real privilege to put on an event that the community gets behind so much.
It's something I am pretty proud of.
You also might be interested in learning the strategy I use to attract over 50,000 views a month on my Linkedin content.