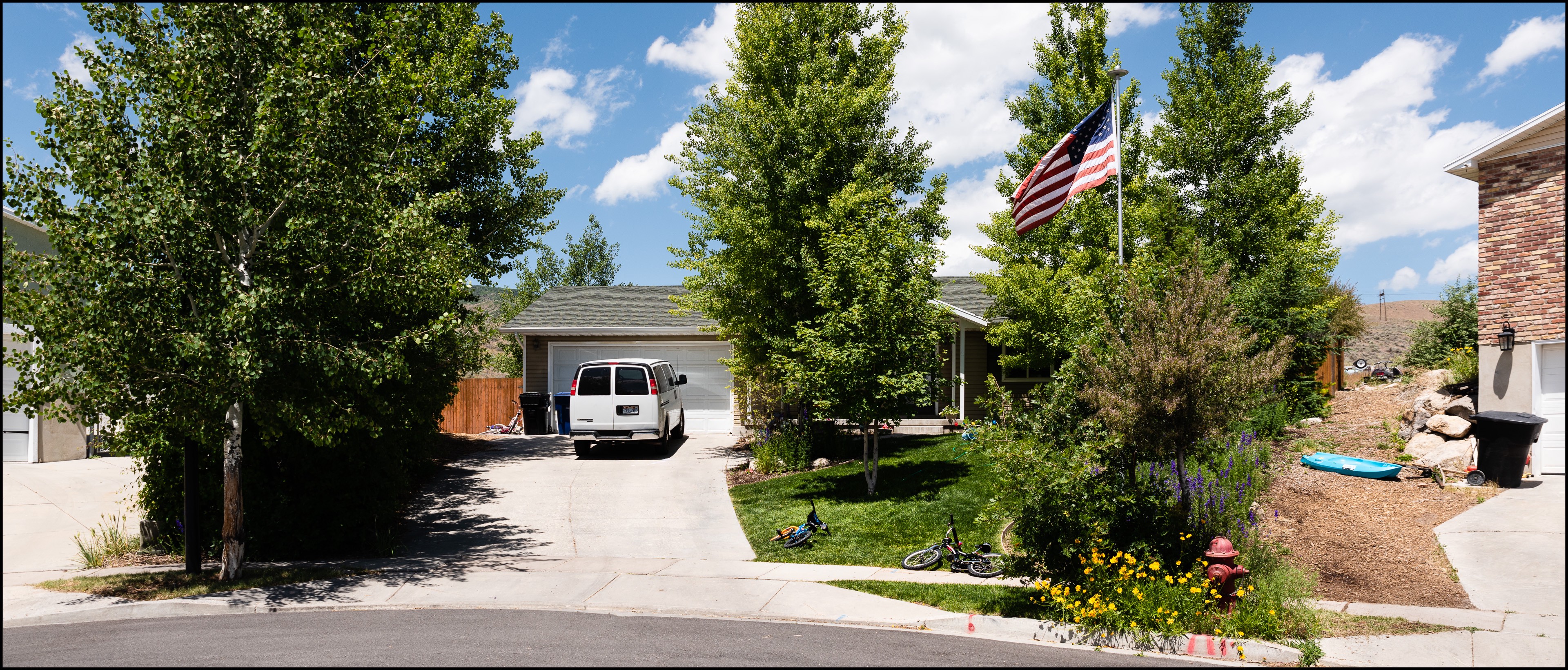 We drive up a small rise Lloyd and I, hoping that when we get to the top there will be a viewpoint that reveals the neighborhood. When we reach the summit Lloyd turns left and drives down the short street, planning to turn around down at the end of the block. But when we get there I see this house, a perfect representation of suburban life so I ask Lloyd to stop, then jump out and start shooting.
We have been out searching for pictures for my In Between project, pictures of things we all drive by unnoticing on our way to the things we think are worth seeing. For two days we have driven the less traveled streets of Salt Lake and Draper, South Jordan, Bingham Canyon and Magna stopping to make pictures of the drive by landscapes and unremarkable neighborhoods, hoping to see well enough to see the often overlooked. And now this. This isn't exactly what I was looking for but how can I not make a picture of it, it's perfect.
The house sits in the center of the cul de sac, the farthest reaching arm of a small development. It is situated on a gentle rise that lifts you the last few feet above the older parts of Copperton. It is quiet here and peaceful, the houses new and suburban. Low slung and wide they face the street offering a you their pleasant aspect. Land here is not expensive, no need to build long and deep, no need to rise very high above the ground. Someone has planted plenty of trees. They break up the newness of the development and offer the eye rich greens to balance the browns and yellows and greys of the Utah prairie landscape. Above it all is the sky, filled with perfect clouds; it rises, a Technicolor backdrop on this slumbering suburban afternoon. On the lawn, bicycles lay abandoned, the kids inside, perhaps napping or eating or watching TV. Even the spray of yellow flowers surrounding the red of the fire hydrant is perfect. I wait for the breeze to come up and fill the flag, shoot over and over hoping for a frame where it all comes together and then in this instant it does.
When I was a boy growing up in post war Chicago this was the accepted vision of the American Dream, to live in one of those new subdivisions then springing up around the city. I remember visiting an early girlfriend who had moved out to this new wilderness. We rode the softly curving streets of fresh and perfect asphalt, her holding me, clutching tightly, riding on the back of my motorcycle, and me understanding that our lives were now split apart by the life her parents had chosen to lead and that she had accepted.
Later when I was struggling with unhappiness and disillusion I prayed that the drugs I took would burn away enough of my madness that I could be happy living in a place like this, working at a regular job in some factory, keeping a boat in the driveway.
It turned out it was more complicated than that and eventually I came to know that whatever happened my life wasn't going to go that way. Still, I like to see places like this and imagine a life where I lived here. Then I take a picture and move on.