Substack Formatting
How to format your Substack article using the Substack editor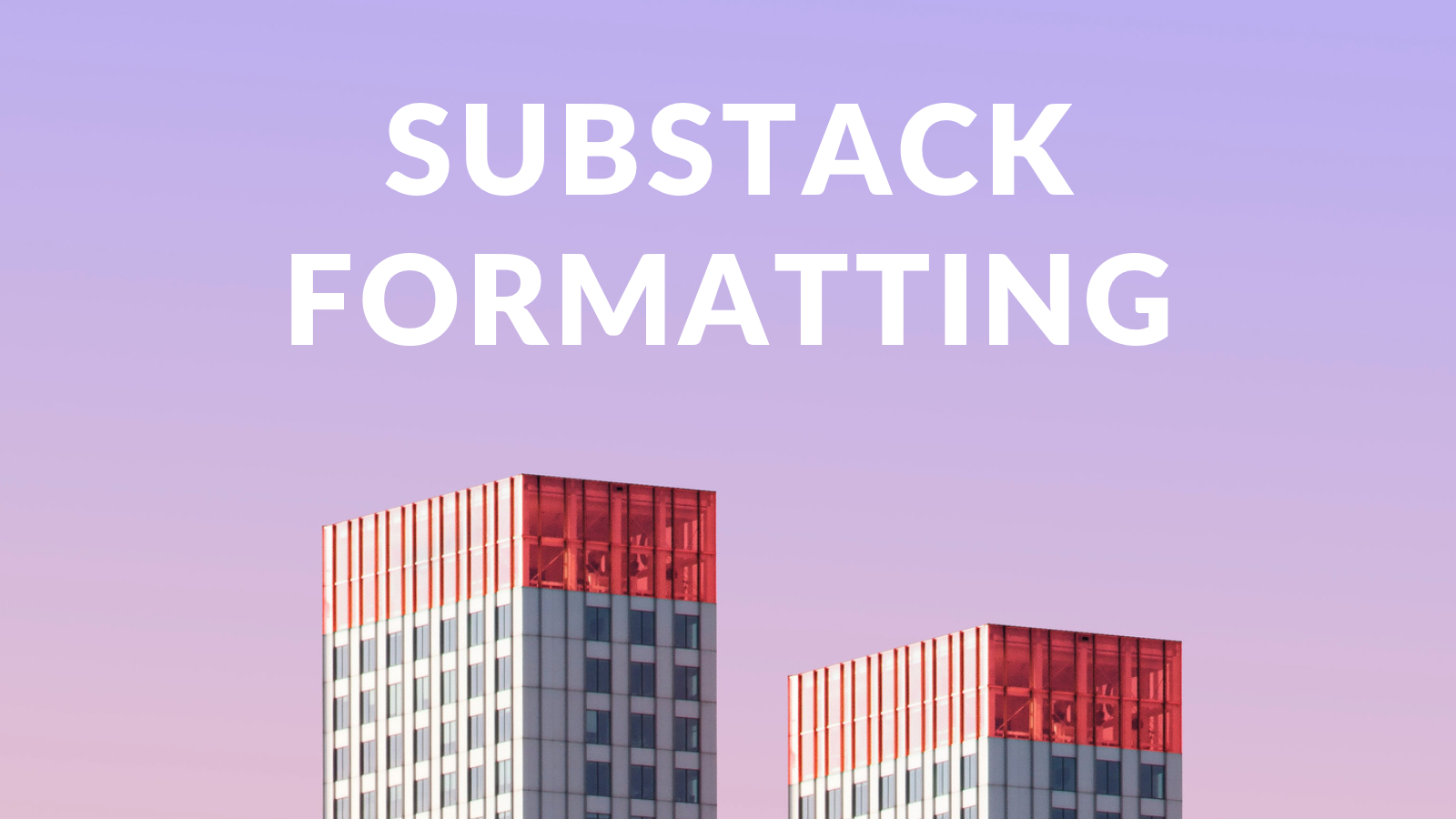 Substack is an amazing platform, in large part thanks to its simple yet effective article editor/formatting tool.
However, for new writers on Substack, there is usually a bit of a learning curve.
Even though Substack makes creating a subscription newsletter easy, the writer is still largely responsible for the article formatting and design.
Below is a quick guide to the article formatting options included in the Substack editor or elsewhere on the website.
To write a post on Substack, click on on the Dashboard tab in the upper right hand corner of your Substack account: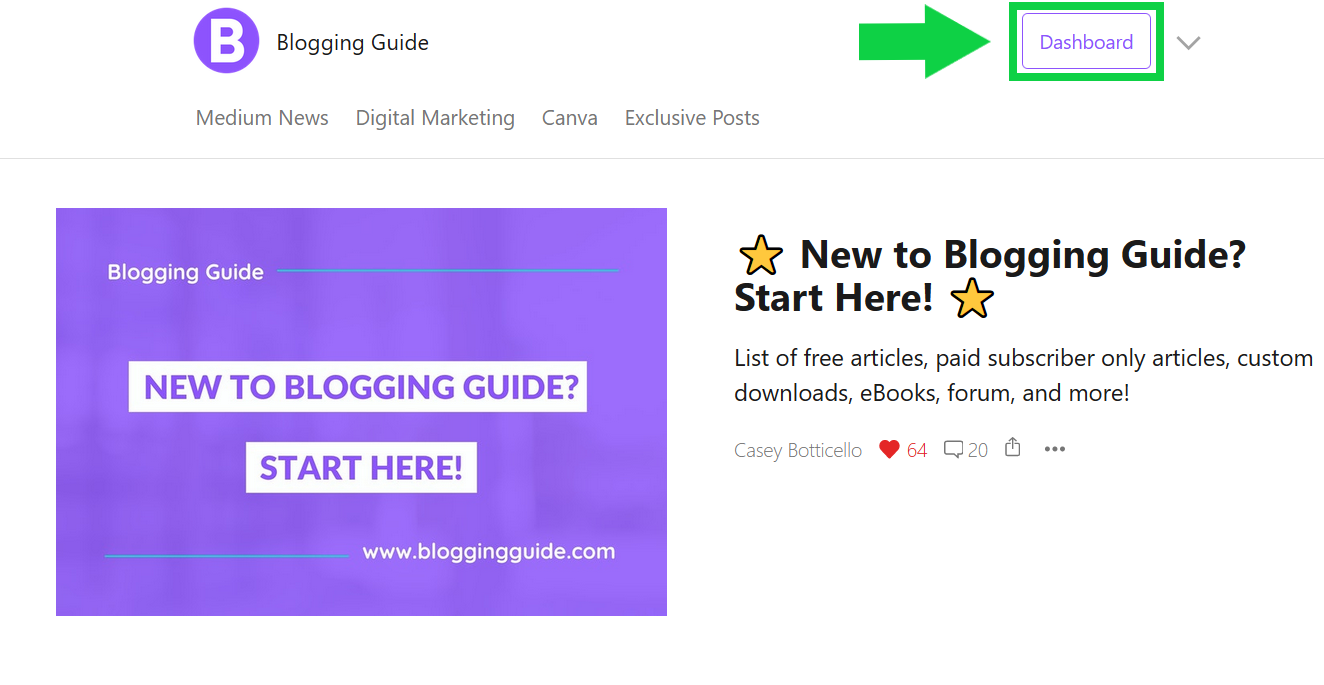 Then click on your posts tab, and finally click on the button labeled New Post.

When you write a post on Substack, you will see a blank page, with the following toolbar/editor at the top of the page:
Some of of these inputs are fairly self-explanatory (Title) but some are not (Buttons/Style).
Below is a diagram of the Substack editor, for your reference, along with a look at what each function does and how it can be utilized to make your articles look amazing.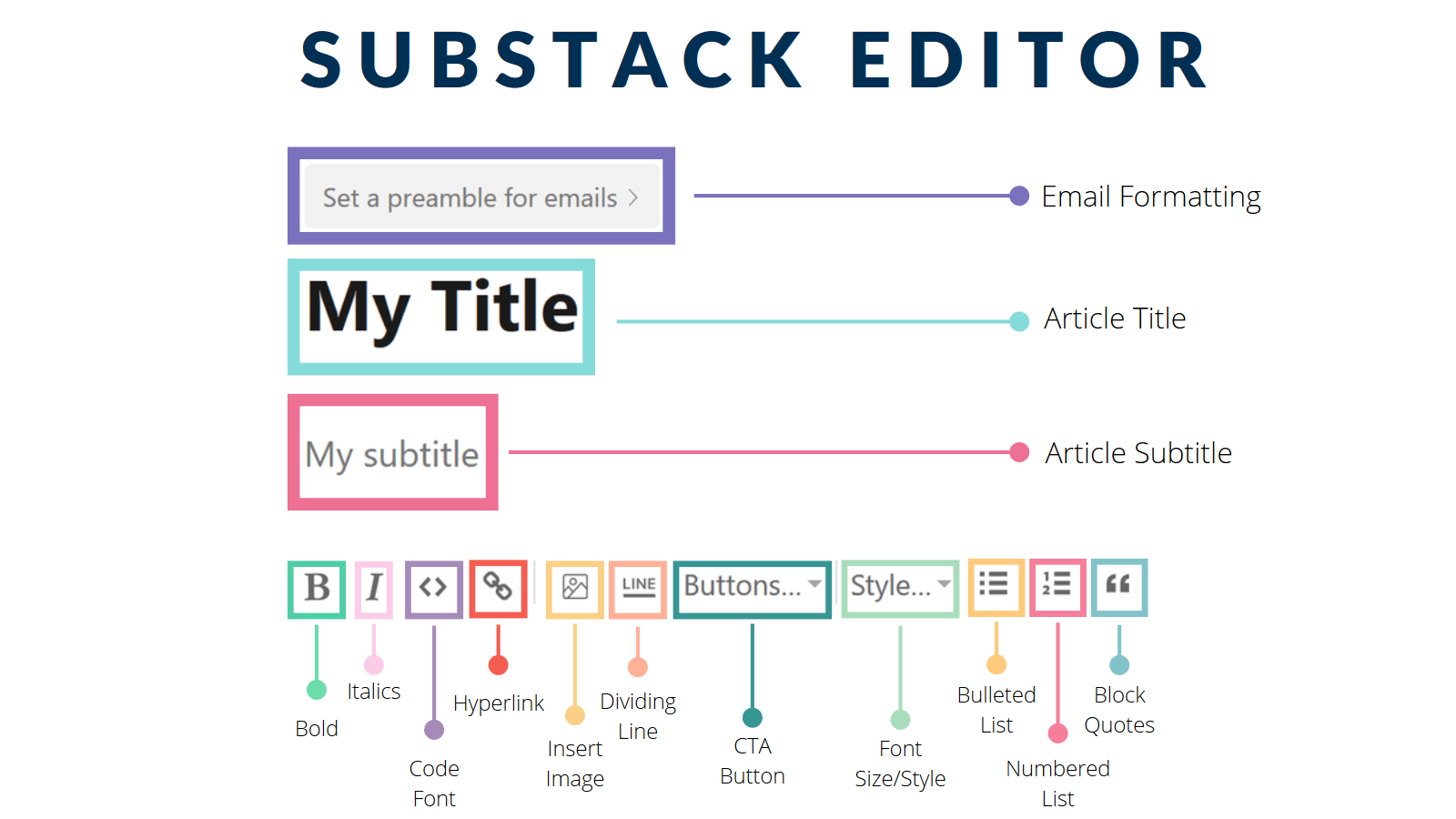 Set a preamble for emails
If you click on the "Set a preamble for emails" button, you will see the following format customization options: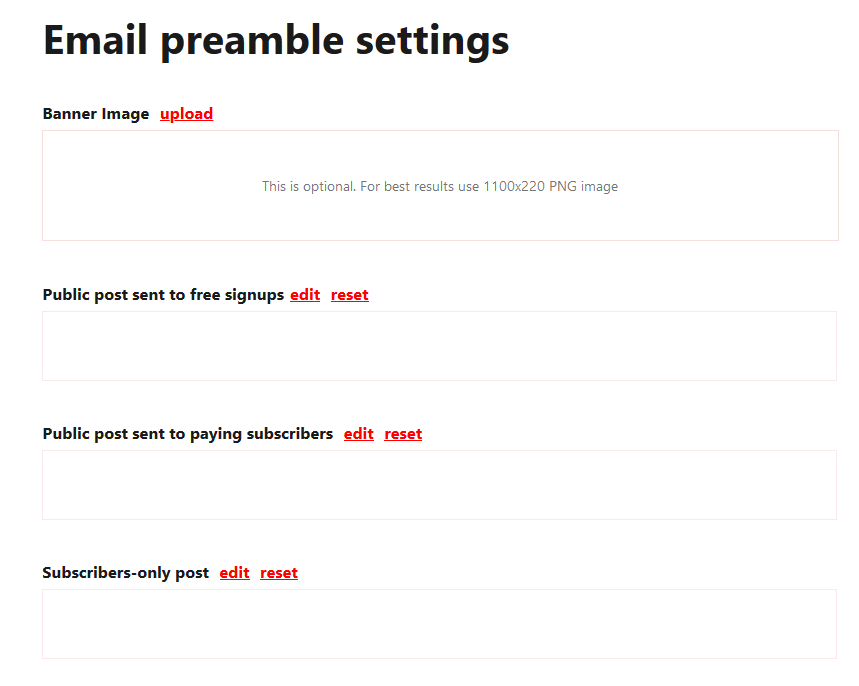 If you click on the "Upload" button, you can upload an image which will be the featured image at the top of your email newsletters.
As an example, below is the banner image from my Substack publication, Blogging Guide:

Adding a banner is an easy way to add flair to your newsletter. It is also a good opportunity to build your brand awareness by utilizing any logos, colors, or images associated with your newsletter.
Once you upload a banner image, the image will be applied to all subsequent posts (until you press the remove button).
The other three options allow you to insert text, images, or other content to your newsletter, based on who is receiving it. This allows you to personalize your message, which is useful when you have differing audiences (i.e. paying subscriber and free subscribers).
The three custom intros to emails that you can create are:
Public posts sent to free signup
Public posts sent to paying subscribers
Subscribers-only posts
Title and Subtitle

Substack allows you to customize the title and subtitle of a newsletter headline (or an online post).
Titles and subtitles can include numbers, letters, or symbols.
Bold | Italics | Code | Hyperlink | Image | Divider Line

Bold
Pressing the letter "B" icon will create bold text:

Italics
Pressing the letter "I" icon will create italicized text:

Toggle The Code
Pressing the "<>" icon will toggle the text, rendering it in code format:

Hyperlink
Pressing the "🔗" icon will toggle the
Image
Pressing the insert image icon will allow you to upload an image. This will also work for inserting GIFs, although like many publishing platforms, Substack can be slow when it comes to uploading GIFS (or it may take a few attempts to render the image properly).

Horizontal Dividing Line
Pressing the "horizontal dividing rule" button will insert a subtle, yet effective, horizontal line that acts as a page divider or separator.

Here is an example of the Divider Line used in an article:

Buttons
One of the most distinctive features of the Substack editor, is its buttons feature. If you click on the buttons icon, a drop down menu will appear, with the following options:

Subscribe Now — Inserts plain button labeled Subscribe Now. This button will take readers to the landing page of your publication where they can view the free vs. paid options.
Sample Button:
Landing Page:

Special Offer — Inserts a button which promotes a discount or promotion. You must create a special offer before creating this button.
To create a special offer, click the settings button, located in the upper right hand corner of your Substack account. Then scroll down to section and click the manage button next to the Special offers section.

Once you have created a special offer, you can click on the special offer button, select your special offer (you can have more than one):

This will produce a custom button, as seen below:

Give a gift subscription — This allows publishers to insert button, allowing readers to gift a subscription to your publication.
Sample Button:

View comments — If you are writing an article that may attract many comments, and you want to direct readers to the comments section (which is normally discretely displayed at the bottom of an article), the view comments button is useful. When you insert this button into your article, readers who click it will be able to view a full page layout comments section, making the comments easier to read.
Sample Button:

Full Page Comments Section:

Share this post — Inserting the share this post button, will produce a button that, when clicked, will offer readers easy optionsto share a newsletter post on social media.
Sample Button:

Pop-Up Window When Share Button is Clicked:

Share Medium Blogging Guide's Newsletter — This button creates a similar button to the one above. The only difference is this promotes the entire newsletter as opposed to a single article.

Custom Button —The custom button is a button where you can easily customize the button text and customize the hyperlink where the button will send readers, when they click it. This can be useful for directing readers to crucial resources, featured articles, or your external websites.


Style
The style button in the Substack editor controls the different levels of HTML headings you can create in your articles. HTML defines six levels of headings. A heading element implies all the font changes, paragraph breaks before and after, and any white space necessary to render the heading. The heading elements are H1, H2, H3, H4, H5, and H6 with H1 being the highest (or most important) level and H6 the least. For example:
Search engines use the headings to index the structure and content of your web pages. More importantly in the context of newsletters, users often skim a page by its headings. It is important to use headings to show the document structure.

As an example, here is an article with multiple heading elements:

Custom Lists
Substack allows for the creation of two types of auto-formatted lists — bulleted and numbered.

Bulleted List
To create a bulleted list, click on the bullet list icon in the Substack editor:

Numbered List
To create a numbered list, click on the bullet list icon in the Substack editor:

Block Quotes
A block quotation is a direct quotation that is not placed inside quotation marks but instead is set off from the rest of the text by starting it on a new line and indenting it from the left margin. Block quotations may be used to feature long blocks of text containing quotes or as a tool to feature certain content.
Examples:


Creating block quotes with Substack's editor is easy. All you need to do is click on the quotation icon (far right of the editor), labeled "wrap in a block quote" as seen below:

Formatting Other Than Editor
For the most part, Substack does a good job of limiting most article formatting to the editor. However, there are a few other article elements that can be edited outside of the Substack article editor.
Color Theme
Substack allows publishers to choose a single color theme.
To edit your newsletter color theme, click on the settings button in the upper right hand corner of your Substack account.
Next scroll down to the theme highlight color section:

As seen in the image above, my selected highlight color is red (which you will see in the following examples).
However for the purpose of this tutorial, I changed my highlight theme color to blue, so that it would be easier to distinguish from the red arrows I add to the images.

The theme highlight color you select is featured in various parts of your newsletter, including:
The block quotes in your article:
All buttons in your articles:

The buttons on your internal newsletter dashboard:

Underlines and breadcrumbs on your newsletter:

Horizontal Separator Lines

The selected highlight color theme will also appear throughout you own Substack account, in a number of places.
Thanks for reading my article! If you want to learn more about different blogging platforms, check out my newsletter, Blogging Guide!
If you liked this article, here are some other articles you may enjoy:

Casey Botticello is a partner at Black Edge Consulting. Black Edge Consulting is a strategic communications firm, specializing in online reputation management, digital marketing, and crisis management. Prior to founding Black Edge Consulting, he worked for BGR Group, a bipartisan lobbying and strategic communications firm.
Casey is the founder of the Cryptocurrency Alliance, a Super PAC dedicated to cryptocurrency and blockchain advocacy. He is a graduate of The University of Pennsylvania, where he received his B.A. in Urban Studies.
You can connect with him on LinkedIn, Twitter, Facebook, or by following his award-winning newsletter, Blogging Guide.