9 Female Rappers You Should Know
Women have always struggled to get their deserved recognition in rap. Let's change that.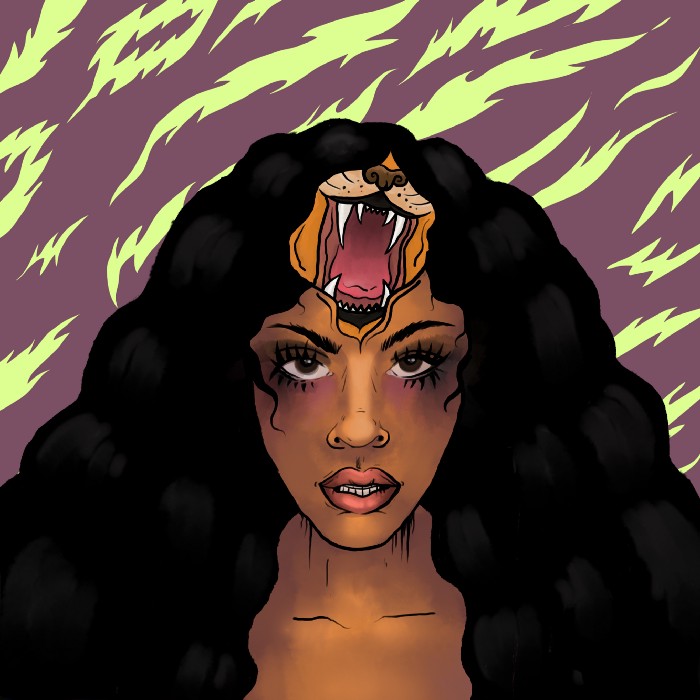 "The most disrespected person in America is the black woman. The most neglected person in America is the black woman." Malcolm X
More than music, rap is an art form.
Strip it down to its essence, and the obvious associations to poetry and spoken word are inevitable, yet it stands as a unique medium, something that is both a skill that can be harnessed and a boundless vehicle for expression. That makes it universal at its core.
Anyone can rap, regardless of genre, ethnicity, nationality, social background, etc. No seriously, anyone.
As music genre though, rap is acutely misogynistic (and homophobic/transphobic, but let's leave that for another piece). Any fan with an inch of consciousness and social awareness can acknowledge that.
Does that make it less fun to listen to? Can it ruin the listening experience? Put several women in a room and play Pharoahe Monch's "Simon Says". The same infamous chorus line about chest rubbing can incite either disgust or euphoria… It's entirely subjective.
Last year, Cardi B made headlines after becoming the fourth female rapper to reach the number 1 on the Billboard 200 albums chart, twenty years after Lauryn Hill first accomplished the feat with The Miseducation of Lauryn Hill.
Considering twenty years comprise 1,042 weeks of opportunity for a record to reach the top, and that rap and hip-hop have been consolidated genres and chart-toppers since the 90s — fully backed by major labels — the lack of female representation is systemic and part of the genesis of the genre itself (and the music industry as a whole).
Women have always struggled to get their deserved recognition in rap. But that has changed a lot in recent years, as the continuous output of quality music by female voices became so omnipresent that even the more stubborn fans had to turn their heads around.
Missy Elliot was an undeniable chart presence in the early 2000s, coming really close to full pop glory on four different occasions, with two №2 albums under her belt (Miss E…So Addictive, 2001, and The Cookbook, 2005) and another two peaking at №3.
And if we trace record sales alone as a symptom of change, a significant turning point went by the name of Nicki Minaj, who achieved two number one albums for two years in a row (2011 and 2012).
Minaj's pop accessibility and undeniable rapping abilities propelled her into stardom, so much that labels have been trying to emulate that formula ever since (hence the endless comparisons between Nicki and Cardi B).
However, chart-topping records can be a malleable metric of little meaning for countless rap fans who favour artists that fit archetypical moulds or put lyricism above all on first listen. More worryingly, industry executives seem to be out of touch with current diversity that can be found in hip-hop, which again reflects the structural adversities females rappers face in advancing their careers and receiving accolades.
A clear example of this can be found in the recent comments made by Jermaine Dupri — a prominent hip-hop label owner and producer — when asked about current women making waves in the industry.
Instead of taking the opportunity to show how in-tune with the culture he is, and maybe shout out a less known artist he had got wind of, he opted for a dismissive tone, making gross generalisations and characterising females in rap as "stripper rappers".
What Dupri and many men in the industry seem to be missing is that the mainstream landscape has shifted, and old gatekeepers promoting conformist models of female artistry no longer have the ear of the youth. It won't be long until more female names ascend to the general public's acclaim and become international superstars.
But for now, let's talk about quality over quantity.
For this list, I'm staying away from record sales and industry success. I opted to highlight women who display originality and can lyrically spar with and potentially knock-out many of their acclaimed male counterparts, but whose songs may have flown under the radar of the more casual rap fan.
If you're a rap nerd, you're likely to recognise a few names here and know they've already been acknowledged by the critics. I can only hope you find some more to add to your watchlist.
Sampa The Great
Zambia-born, Botswana-raised and currently Australian resident, Sampa the Great brings "female, black and proud" to the forefront of her art, with impeccable and innovative beat choices (as you'll be able to deduct from the video above) and compelling delivery.
Her 2017 mixtape Birds And The BEE9 is a thought-provoking listen, full of beautiful jazzy moments interlaced with traditional influences that provide a comfortable base for Sampa to let her singing voice reign, but the new songs she has recently put out make me think the ante is about to be upped in the rapping department.
Megan Thee Stallion
The best thing I can say about Megan is that in another dimension she'd have been the perfect addition to UGK. She's got the dirty talk of Pimp C and the uppercut prowess of Bun B.
Inverting the scales of the stereotypical female-male rap dynamic both sonically and lyrically, she uses sexuality as a power tool, belittling male-centric narratives and bringing density to the black female perspective with multiple rap personas.
It feels refreshing to hear such bravado wordplay from a female voice over Houston-heritage production typically associated with a late night at the strip club.
Little Simz
Some will know Simz from a feature on a Gorillaz single, others may have heard her slaying tracks alongside some of UK's biggest names (Stormzy, Kano, Ghetts, Chip, to name a few).
Simz started rapping at the age of nine, released several mixtapes and EPs, received praise from Kendrick Lamar, toured with none other than Lauryn Hill and is now on album number three, Grey Area, arguably her best, which paradoxically finds Simbi Ajikawo (real name) at her rawest, most vulnerable and simultaneously most ambitious.
Little Simz is a UK rap Hall of Famer. And it's not just me saying it.
Psalm One
A queer woman who took a rapper name from a Bible passage. Easy to tell Psalm One is anything but conventional.
Having recently reviewed Psalm One's music, I realised there aren't many female rappers championing topics such as LGBT rights or the invisibility of sex workers in the feminist movement, which alone should earn her a spot on this list.
But there's more than political statements about feminism and full emancipation on her latest album FLIGHT OF THE WIG, and that's what makes the music stand out. The lyrical dexterity and sociocultural awareness will give your brain something to think about, while more personal songs will feel relatable and honest.
One's music is conscious and very in-tune with the times sonically, as you'll be able to tell from the more trap-influenced production on the album, and her raps pack style and flair, never feeling preachy to the listener.
Tierra Whack
Tierra Whack may have single-handedly reinvented what a rap album can be.
When her debut Whack World started making rounds in the music press, to great critical acclaim, I was baffled. A 15-minute record with 15 one-minute songs where Tierra goes through different flows, accents, voices, personas…and they're all catchy?
You see, the thing about Tierra Whack is she's about the full artist package. With a fire-spitter reputation earned in Philadelphia's streets, and a well-documented style progression on Soundcloud, Tierra did the only thing she could do on her debut: go for gold.
Whack's eccentric attitude and refusal to follow the herd-mentality that dominates mainstream rap shines through. Her art is a full talent showcase, a rare open window into the super versatile multiverse of contemporary young womanhood and I expect Whack to craft a whole realm of her own, much like Tyler the Creator did throughout the last decade.
Rico Nasty
Raw delivery and authentic energy, that's what Rico Nasty is about. She's an oddball, a punk rock and anime fan who refuses to be boxed in both aesthetically and lyrically.
Despite being only 22, Maria-Cecilia Kelly (real name) is a young mom who turned personal tragedy and adversity into a raging force, drawing influences from various genres into her music without feeling like she's just trying to tap into a trend or do meaningless crossovers.
Nasty's latest EP, Anger Management, produced by Kenny Beats is rowdy and empowering, something you can mosh to but also play in the club. Despite what one might make of Kenny's reinvention of known samples and formulaic beat patterns, the fact is that they provide the perfect base layer for Nasty's rock star attitude, which you can see on full display if you search for some footage of her live shows.
Rico Nasty's drive and unconventional image are unmatched among other female rappers, which has earned her praise as a role model for black women who are into alternative music genres. She's carving her own lane and thriving in it, providing powerful representation to young girls who don't want to abide by other's expectations.
Ivy Sole
Second Philadelphia entry on this list, Ivy Sole's music is stylistically miles away from her contemporary Tierra Whack.
Musically, Sole's songs appeal to a more traditional audience, who want their Hip-Hop well-grounded in the past and infused in soul and R&B, but her honest lyrics and the way her voice shifts from gentle to assertive holds your interest.
On her 2018 debut album Overgrown, Sole took a confident step as a vocalist, carving a lane for herself as a singer, yet there are plenty of straight rap bars to solidify her place on this list.
In the past, I compared Ivy to Washington D.C.'s Oddisee, and although I still feel both artists deliver wholesome music, I'm enjoying the way the former has matured her output to go beyond rap and establish an identity as a full-bodied artist.
Leikeli47
Leikeli47 is an enigma. Arguably the most eclectic artist on this list, she has so many styles that even the simple task of selecting a video to illustrate her music for this list took some revisions.
47's trademark balaclava/bandana mask may mislead you into thinking of MF Doom, but her style and versatility bring her closer to Missy Elliot.
Dancehall, r&b and even house are all present in her songs, and on both her debut album and latest second full-length, Acrylic, she proves that she can master any of those without losing identity, reminding us that all of those genres are rooted in black culture. She can even go to NPR's Tiny Desk and perform with a lounge jazz band.
On Acrylic, Leikeli invites the listener into her hood, with equal measures of stark realism and entertaining surrealism. Her lyrics can be political but fun, trippy but soulful, and above all, catchy.
Wearing a mask doesn't prevent the young artist from getting up close and personal in her lyrics, and fortunately, the rough look also doesn't hide a beautiful singing voice.
Jean Grae
I wish Jean Grae was not on this list. The thing is, she's so criminally underrated that omitting her name on the grounds of career longevity and past laurels would feel dishonest.
Jean Grae is a rapper's rapper and should be one of the first names on the list of any lyrical rap nerd who knows female artists beyond Billboard charts (the other one being Rapsody). Her wordplay is intense, full of references that force you to go on Genius to decipher what's going on.
Grae's latest album, Everything's Fine, a collaboration with her husband and fellow artist Quelle Chris, may not be the best calling card, as it veers considerably towards abstract rap, Chris' trademark style, but it did get Album of the Year on Bandcamp and is indeed the latest quality output in years, so you definitely should check it out.